Sections
Student Awards and Achievements
Text Area
| | | |
| --- | --- | --- |
| Name | Year | First Placement |
| JIN, Chao | 2023 | Fudan University |
| WANG, Juanting | 2023 | Shanghai University of Finance and Economics |
| CAO, Kai | 2022 | State Administration of Foreign Exchange of China |
| WANG, Hui | 2022 | Renming University |
| LIU, Yifeng  | 2021 | ESSEC Business School |
| SUN, Chengzhu  | 2021 | The Hong Kong Polytechnic University |
| WANG, Linghuan | 2021 | Bocconi University |
| SHE, Guoman  | 2020 | University of Hong Kong |
| XIAO, Kerry | 2020 | Hong Kong Financial Reporting Council |
| CHEN, Yi-Chun  | 2019  | City University of Hong Kong |
| DONG, Xuanjun  | 2019  | Shanghai University of Finance and Economics |
| KUSNADI, Hanny  | 2019  | National University of Singapore  |
| LI, Yongbo  | 2019  | Wuhan University |
| SHEN, Jianghua  | 2018 | Xiamen University |
| LI, Zhiyang  | 2016 | University of Mannheim |
| HE, Shaohua  | 2014  | Lancaster University  |
| MA, Zhiming  | 2014  | Peking University  |
| SHI, Wei  | 2014  | Norwegian School of Economics |
| XIE, Jin  | 2014  | Chinese University of Hong Kong |
| WANG, Rencheng  | 2013  | The University of Queensland  |
| WANG, Yihong  | 2013  | Shanghai University of Finance and Economics |
| ZHOU, Yi  | 2013  | Fudan University  |
Text Area
UG Students
Achievements
Academic Achievement
Left Column
Text Area
CHAN Lok Tung (2019-23)
BBA in Professional in Finance, and in Professional Accounting
I am always grateful for the four years of undergraduate education that HKUST has provided to me. Taking up Accounting as my second major was one of the best choices I have made in University. The Accounting curriculum is very all-rounded. It focuses on both our academic and professional development. Apart from traditional accounting courses such as financial accounting, business law, etc., the professional excellence program embeds sharing by practitioners and career planning sessions, allowing us to stay connected with the industry and explore our passion. Subjects offered evolve along with industry demands. For instance, the rollout of the Accounting Analytics Option which equips students with tech skills in Accounting contexts. In addition, the degree is accredited by professional bodies e.g., HKICPA and ACCA, setting us on a fast track in obtaining professional qualifications. Other opportunities such as overseas exchanges and mentorship have enriched our life experiences and accelerated our personal growth. I would strongly recommend any aspiring students interested in Accounting/Business to study at HKUST, which will move forward with you in realizing your career aspiration. 
---
Right Column
Image
Image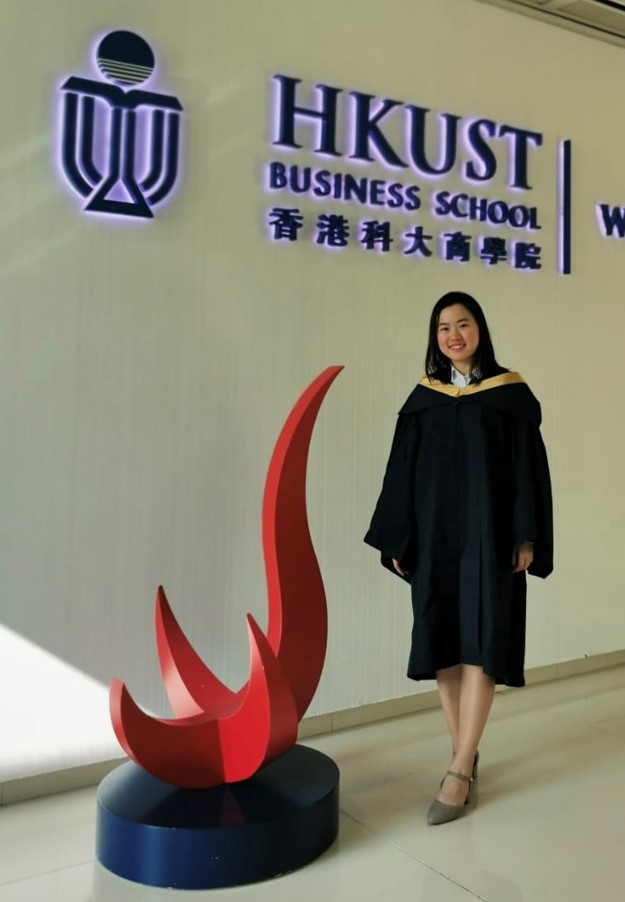 Left Column
Text Area
HUI Wai Hang (2019-23)
BBA in Professional Accounting, and in Finance
I am honored to receive the 2023 Academic Achievement Medal. The Professional Accounting program has provided me with invaluable lessons and experiences that I will carry with me throughout my career. I would like to express my deepest appreciation to the faculty and staff in the Department of Accounting for their dedication to student learning. Their extensive expertise and willingness to offer guidance whenever needed allowed me to gain a thorough comprehension of even the most complex accounting principles. Thanks to their efforts, I emerged with comprehensive technical knowledge and practical skills that will serve as strong professional foundations. Beyond academics, I have also formed meaningful connections and friendships with fellow students who share the same passion for accounting. We studied and learned together, creating memories that I will cherish for life. HKUST's excellent academic resources and supportive environment have prepared me so well for future success. I will be eternally grateful for this outstanding education experience and all it has done to shape my development thus far.
---
Right Column
Image
Image
Left Column
Text Area
LO Ka Sing (2019-23)
BBA in Professional Accounting, and in Operations Management
I am deeply honored and humbled to receive the prestigious 2023 Academic Achievement Medal. This recognition holds immense significance to me, as it symbolizes the culmination of years of hard work and dedication to the exceptional education I have received at HKUST. Throughout my 4-year academic journey, the HKUST Accounting programme has played a pivotal role in equipping me with the necessary accounting knowledge and skills that have been instrumental in shaping my professional growth. The programme's comprehensive curriculum, expert faculty, and hands-on learning experiences have provided me with a solid foundation in the field of accounting. However, the impact of HKUST goes beyond the classroom. The faculty's extensive network of alumni and career development resources have provided me with invaluable opportunities to engage with professionals in the accounting industry.  I would like to express my deepest gratitude to the faculty and staff who have guided and supported me throughout the four years. Whether it was engaging discussions with passionate professors, collaborating with talented classmates, or participating in diverse extracurricular activities, every day at HKUST brought new opportunities for personal and academic growth. The friendships I formed with students from different backgrounds and cultures will hold a special place in my heart, as we navigated the challenges of university life together and celebrated our successes.
Right Column
Image
Image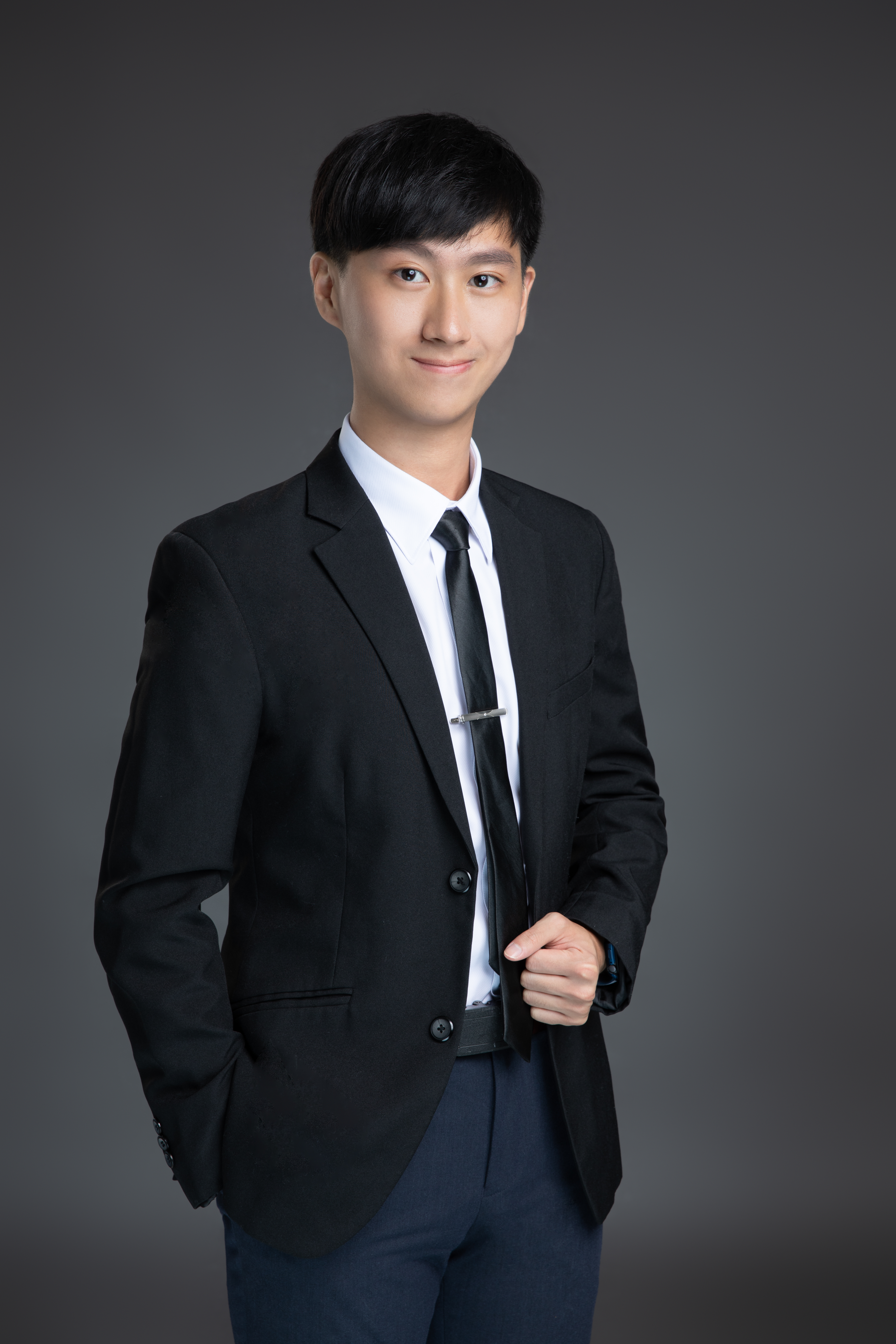 Left Column
Text Area
LAU Tsz Chun (2018-22)
BBA in Operations Management, and in Professional Accounting
I would never thought of studying accounting before I joined HKUST, but the flexible curriculum structure here allowed me to discover different opportunities apart from my initial major. As a second-major student in the BBA in Professional Accounting program, I was able to equip myself with the fundamental work-related knowledge in class. The program also organised various career events which helped me understand more about the possible career paths. I also developed more practical skills in the workplace during an internship that I applied for through the university's career site. Such an experience allowed me to meet students from a wide range of backgrounds and build a valuable social network with them. Without the internship, it would also be more difficult for me to adapt well to my current graduate job in the accounting field. I am very grateful for the guidance and help from HKUST, which allowed me to recognise what I want to pursue after my university life.
---
Right Column
Image
Image
Left Column
Text Area
Kyle Garret See LEE UY (2017-21)
BBA in Professional Accounting and Information Systems, Minor Program in Psychological and Behavioral Science
Choosing the BBA in Professional Accounting program was one of the best decisions I've made whilst in university. Throughout the four years, the program equipped us with courses that were challenging; and placed a strong emphasis on the best practices in the industry today. I also received a lot of support from the program in terms of career development through guidance from professors and various workshops organized. As an international student from the Philippines, this is something I really appreciate as it allowed me to seamlessly adapt to a new environment and has also helped me in securing job opportunities. I've met a lot of great individuals during my time going through the program, and I want to give a big shout-out to them for making it a very enriching and fulfilling one. 
Right Column
Image
Image
Text Area
Other Student Awards and Achievements
CPA Australia Distinction Award
2022

Huge congratulations to FUNG Tsz Ching Charmie, 2022 graduates from Bachelor of Business Administration in Professional Accounting, and in Finance for being awarded the CPA Australia Distinction Award in 2021/22.  CPA Australia offers exam fee waiver and learning support to Distinction Award recipients to learn the sillls necessary for a successful career in accounting.  Please click here for more details.
EY Young Tax
2021

CHAN Pak Hin (Justin) had outstanding performance in EY's annual competition - Young Tax Professional of the Year 2021 (YTPY 2021).  He is the champion of both local and regional YTPY 2021, and will represent EY Greater China to attend the international final in Feb 2022.
Left Column
Image
Image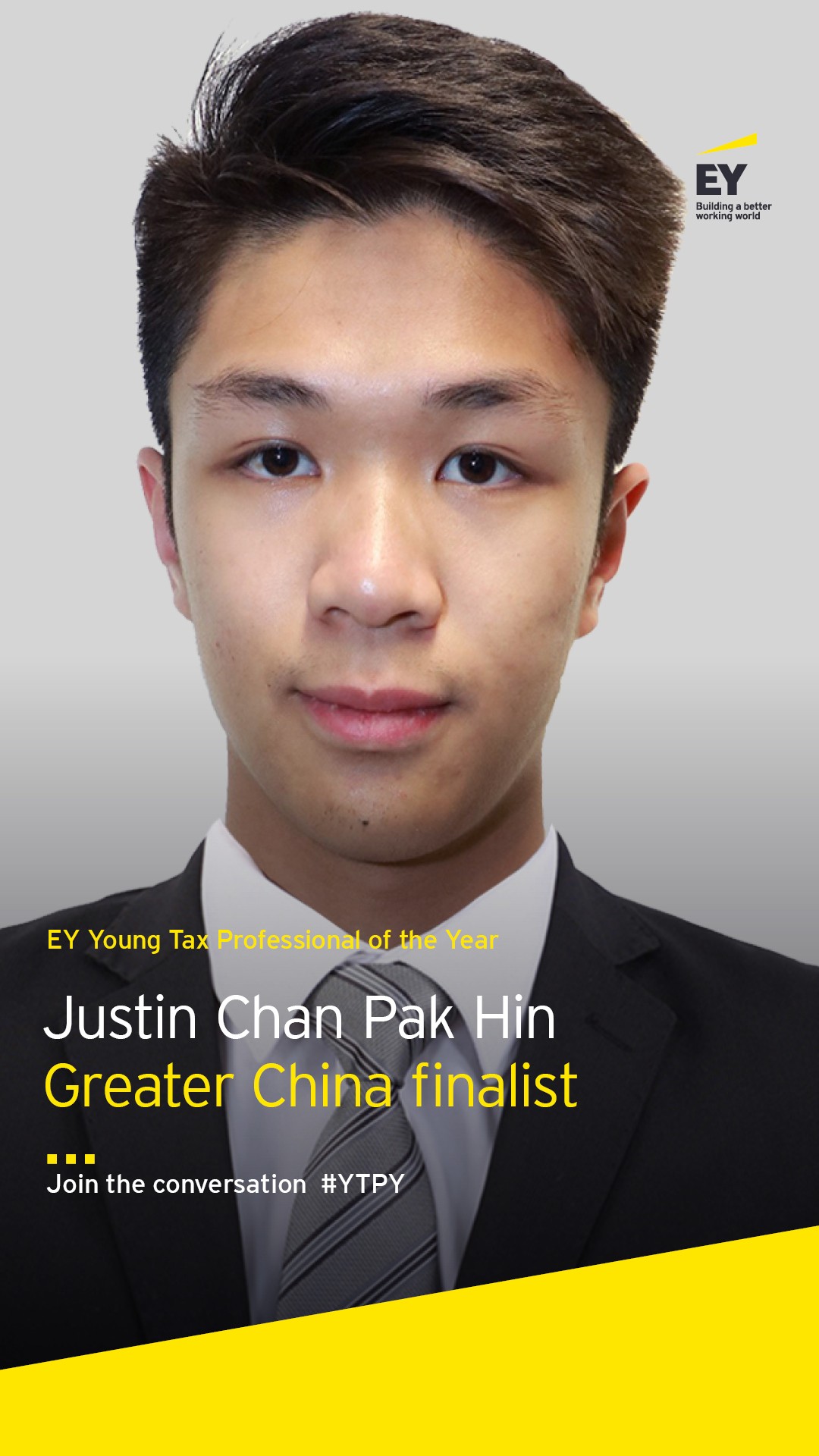 Right Column
Text Area
Justin is in his final year of studies pursuing a Bachelor of Business Administration in Professional Accounting and Finance at Hong Kong University of Science and Technology in Hong Kong. He has been interested in accounting since he was in high school and is excited to make it his career. Justin believes that finance is an important area in Hong Kong as it is a financial center in Asia and that by equipping himself with the relevant knowledge, he can better serve financial institutions. In addition to his bachelor's degree, he plans to sit for his chartered financial analyst (CFA) exam. Justin enjoys sports like cycling, badminton and swimming, and finds listening to music and watching movies very relaxing.